By Manda
I'm not a huge in-store shopper anymore (unless you include tossing workout clothes into my grocery-laden cart at Target while chasing down my four-year-old in the underwear section and simultaneously trying to wrangle my 2-year-old into the Ergo backpack because he tries to jump out of the cart). Usually when I head out to a non-grocery store with my two children I have a specific item in mind, have a strategy in place ahead of time ("You! In the stroller! You! Get a treat at Starbucks if you stay right next to me and don't wander off!" I should work for the Army, y'all), and plan to get in and out quickly.
This week was no different! I planned to take my once-annual trip to Anthropologie in search of one of those ceramic egg crates we all love from last year's Style Lush Gift Guide. I actually planned to use mine for eggs, as I buy them in bulk at Costco because we burn through at least 2 dozen a week at my house between all the breakfast and baking that goes on around here. So. I planned my bribes. I packed the kids into the car. I got my son into the stroller and lectured my daughter about breaking stuff. And guess what? NO LONGER AVAILABLE! DUDE!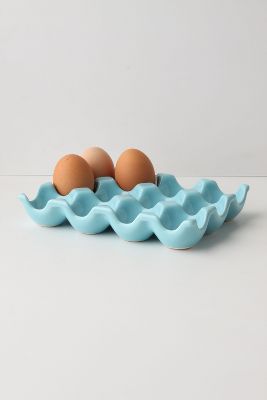 My eggs would have been so happy. Sniff.
Well, onward ho! We had to get on with life, and my next stop (after Starbucks and a lengthy visit to Petsmart where we go around and say hi to all the "wildlife" in the entire store. Twice.) was Cost Plus World Market, arguably one of my favorite places to shop for gifts and housewares in the entire world. My favorite coffee mug recently met an untimely end, ahem, and my coffee just doesn't taste the same without it. I had to check if they still had it ... and YES! And the price? Just $4.99. I almost bought ONE mug at Anthro that I didn't like as much for $8.99, you guys. I also bought a second mug at World Market for just $3.99.
Know what else they had? A very similar egg crate, for only $5.99. WOAH! Unfortunately the last one they had was chipped, but the sales gal first offered it to me at a damage discount ($2.99) and when I rejected that she said I could get a rain check and they'd CALL ME when another one came in!
Now, they don't have the cute clothes selection, but when it comes to housewares and other little chotchkies, World Market is my place! And now that I think about it? We bought a couch there, an ottoman, tons of storage baskets, and of course I always buy my favorite stacking mug set there when I need an impressive gift for a budget-friendly price.
Plus? THEY HAVE BACON CHOCOLATE. Believe me, you want to go to there!
Are you a Cost Plus World Market believer? Have you found anything awesome there recently?
(photos via Anthropologie.com and Worldmarket.com)