by Christina
I posted a photo of myself on instagram this week of me in a top I love and lo, this post was born.
I graduated high school in the Pacific North West in the 90's so plaid seemed a bit grungy and masculine to me, in theory. It's big this season so I did what middle aged slaves to the junior section at Target do, I tried it on.  I liked it. I brought it home and while it has pink in it, it still felt a little manish. So I added a necklace, wore dark wash skinny jeans and patent leather bubble gum pink flats. Viola, I'm a woman, not Eddie Vedder!
How do you do this yourself?
1. Button downs are typically boxy so a) wear them with something form fitting on the bottom or b) belt it.
2. Accessorize: Roll up the selves and have yo'self an arm party! (sorry, sorry) Or wear a big pair of earrings or a statement necklace over the shirt.
3. Wear it to the office! with a pencil skirt, great heels and pearls. Like a lady does!
4. Grab a scarf, and wear it with another pattern. Like flowers or dots. (Yes, I'm serious!)
However you do, try it. Pattern is fun and color will makes you happy! Here are a few I like.
Old Navy $16.99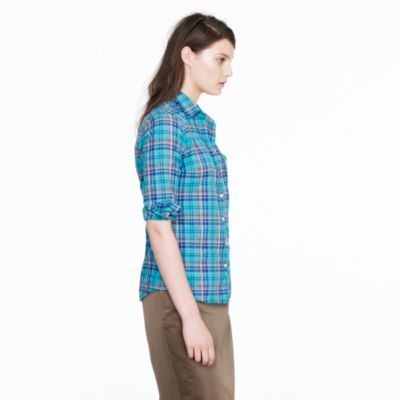 ,
Are you into this trend or does it better suit the boys?
(Images via: me, Old Navy, Jcrew and Target)