by Lawyerish    
I recently acquired two dresses for very different occasions, and I feel I must tell you about both of them.  It will not surprise you that they're both from J. Crew.
(I feel like I should apologize for my nearly slavish devotion to J. Crew, but when you find something that works for you, you run with it.)
The first is a casual, flattering, airy summer dress called the Puckered Dress.  It retails for $128 (and will no doubt soon be on sale for even less) and I think it would be darling at a summer wedding just as it would be at a garden party or out for an easy dinner.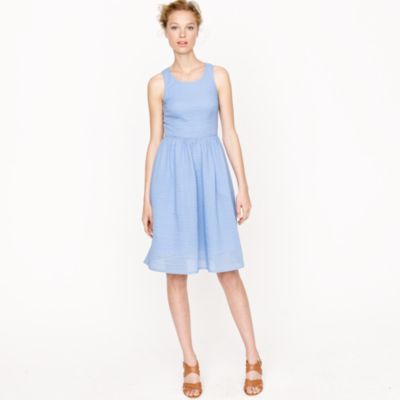 If I do say so, I think I looked pretty great in it (tall ladies take note: I had to have the hem let down all the way as it was a hair too short but now it's perfectly knee-length).
I also got the Arabelle dress in marine blue (which looks completely different in person than on the website) for a formal event, and I love it, too.  It's VERY long, and even with heels on (I am 5'11" barefoot) I felt like I should have had it hemmed.  I got lots of compliments on it and felt rather regal.  This one I bought one size up as their formalwear can run a little small, and that was the right way to go.  It's got an inner corset so it doesn't fall down on me, and I feel comfortable that I won't, um, pop out at any moment.  
Happy dress shopping, girls!
{Photo credits: my own and jcrew.com}